12th Panasonic Award, the most prestigious award for Indonesian television industry had been celebrated at Friday, March 27th 2009!!!
The show was hosted by our treasures Raffi Ahmad and Olga Syahputra. Firstly, The show was opened by one of our treasure, Raffi Ahmad who was look so handsome in his outfit, after presenting the shows that is popular in some channel like Dunia Dalam Berita – TVRI and Termehek-mehek – Trans TV and after that Olga Syahputra come in front of the stage to accompany Raffi. In the middle of Dahsyat – RCTI presentation, Raffi Ahmad and Olga Syahputra ask Luna Maya to come to the stage and join with them to host the show for some minutes.
Indonesian vice president Mr. H. Jusuf Kalla and his wife Mrs. Hj. Mufidah Kalla also attended the annual celebration at that night. A lot of musicians, bands, and singers also entertained the audiences and the viewers at that night. Vidi Alviano, Joeniar Arief, Afgan Syahreza and Kamga Tangga were collaborate to sing a beautiful medley songs from their single with their golden voices. Beside them there were also Hijau Daun, Tangga, Bunga Citra Lestari, etc.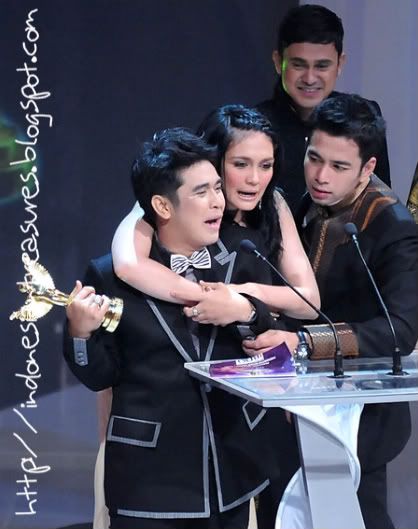 Olga Syahputra, maybe became the celebrity who got the centre of the attention at that historical night. Being a presenter is not enough for Olga. The first time he nominated in Panasonic Award, he got two categories in the same time. The first category is The Most Favourite Music/Variety Show Presenter (Compete with his best friends, two of our treasures, Raffi Ahmad and Luna Maya) and the second is The Most Favourite Comedian. Surprisingly Olga Syahputra won those two categories. When The Most Favourite Music/Variety Show Presenter announced and Olga's name was mentioned as the winner, he cried and Luna and Raffi who are this rival for this category, helped him to come to the stage to deliver the winning speech. The winning speech was so funny and all of the audiences are laugh when Olga talked including Indonesian vice president and his wife.
Another surprise came from The Most Favourite Actress category. Our beloved treasure Luna Maya, who was become the nominee for this category was beated by Shireen Sunkar. This is so riddiculus because a lot of people said that Luna Maya will win and Luna Maya deserve to win. Luna Maya who looked so gorgeous with the golden gown at that night was keep smiling and she did not show the disappointed face because of her lost.
Some of Olga's and Luna's shows were also win in some categories like Luna's show Extravaganza won as The Most Favourite Comedy Show and Olga's show Gong show also won as The Most Favourite Quiz/Game Show.
This year annual night was more spectacular and more prepared well than the previous year. The stage was dominated with purple colour and it was designed so Indonesian with showing the beautiful scenery of some places in Indonesia trough the big screen.
Here are the complete winners:



Individual :

Teuku Wisnu

(Actor)

Shireen Sungkar

(Actress)

Tantowi Yahya

(Quiz/Game Show Presenter)

Cut Tari

(Infotaintment Presenter)

Olga Syahputra

(Music/Variety Show Presenter)

Olga Syahputra

(Comedian)


Ruben Onsu

(Reality Show Presenter)

Tukul

(Talkshow Presenter)

Darius Sinathriya

(Sport Presenter)

Putra Nababan

(News/Current Affairs Presenter)
Program :
Drama Series: CINTA FITRI SEASONS 3
Quiz & Game Show: GONG SHOW
Infotaintment: SILET
Music & Variety Show: MAMAMIA
Reality Show: TERMEHEK-MEHEK
News Magazine: KPK (KUMPULAN PERKARA KORUPSI)
Comedy: EXTRAVAGANZA
Talkshow: KICK ANDY
Entertainment Talkshow: BUKAN EMPAT MATA
Sport: LIGA DJARUM-ANTV
Children Entertainment: PENTAS IDOLA CILIK
Children Edutainment: SI BOLANG BOCAH PETUALANG
News/Current Affair: SEPUTAR INDONESIA
Documentary: METRO FILES